China HNWI Gifting White Paper

1
MEC and Hurun Research Institute today released "China HNWI Gifting White Paper 2017'', a report on the gifting behavior and demand of high net worth individuals (HNWIs) in China. This White Paper will help readers understand more about Gifting in China, particularly for modern HNWIs, and help you find potential opportunities to grow your business.

MEC in association with Hurun Research Institute cooperated over six months from December 2016 to May 2017 to research and complete "China HNWI Gifting White Paper'', surveyed 507 of China's most successful HNWIs. With the vast scale of this market in mind, MEC and Hurun Report research encompassed 14 cities in mainland Cina, with 507 HNWIs filling in surveys of their gifting behaviour. Their age averaged 41 years, their wealth amounted to 22 million RMB per capita, and they have 4.17 million RMB of disposable income annually. A further 16 wealthy invidivuals were interviewed by our teams based in Shanghai, Beijing, Guangzhou and Xi'an.

Chinese people celebrate all kind of festivals throughout the year. As a result, many brands constantly launch topical marketing campaigns and package their products and services with gifting concepts. Brands need to consider various gifts' roles, gifting occasions, emotional needs and gifting motivations; such as expressing filial piety, expressing love and care, create surprises and special memories, or sending blessing. Brands need to grasp various marketing opportunities throughout the year. When planning different festivals or themed marketing promotions, brands also need to offer new news to sustain popularity in the gifting market. At the same time, brands can drive day-to-day casual gifting occasions by focusing on lifestyle.

White paper reveals that "family" are the most common "gifts", with 98% of HNWIs sending them gifts. Interestingly, 67% HNWIs have given themselves gifts last year. This is more common among females (74%, index 110). "Gifting to me" fits in with the popular concepts like "little but certain happiness", "a sense of ceremony", and "love and pamper myself". Rather than simply buying something, making it a "gift to me" brings greater joy and satisfaction. Brands can leverage this mentality of consumers, especially for busy HNWIs, to enhance their emotional connection with the brand.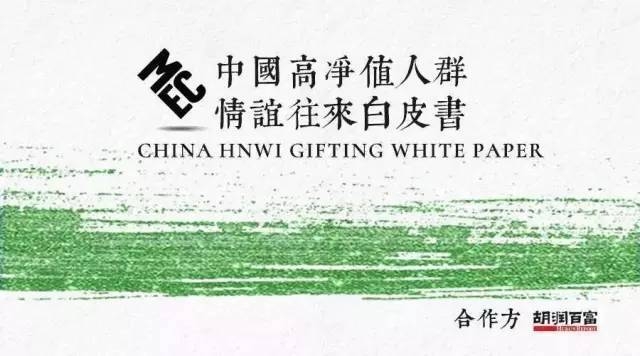 When choosing a gift, HNWIs always consider product itself, brand and price. In term of product, "good quality and craftsmanship" (87%), "practicality" (85%), "uniqueness" (77%) and "attractive packaging"(74%) are considered to be the most important factors. When it comes to brand, important factors include "high-end, to gain 'Mianzi'"(90%), "well-known brand"(83%) and "whether brand fits with gift's self-image"(80%); and with regards to the price, whether the "price meet gift's expectations"(61%) is the main consideration for "gifters".

Compared to Tire 1 cities, Tier 2 show more positive attitude. Chinese New Year, birthdays, Mid-Autumn Festivals and anniversaries show highest gifting rate. Different genders and age group of HNWIs show difference in gift preferences: male tend to gift more jewelry, flowers and handbags; females tend to gift more watches, personal care devices and mobile tablets; young people under 35 years old gift more diverse fashionable products such as accessories, skin care, perfume, cosmetics, SPA beauty, Sports card, etc. With HNWIs paying more and more attention to managing their health, almost 90% of the respondents pointed out that "healthcare products" are the most selected gifts for them. Appetite for luxury products is increasing, 60% of respondents sent luxury items as gifts more frequently compared with the last three years, with 18% doing so considerably more than before.

27% of HNWIs encounter difficulties when gifting. The top 3 most troublesome aspects are "unclear about gifts' needs or preferences"(57%), "time and effort spent in selecting gifts"(50%) and "Gifts' are hard to impress"(49%). Females "enjoy the process", while males "take shortcuts" in gift selection. Brands need to engage females with more involvement in gift selections, to deliver a more satisfying experience along the way, and guide males to make efficient purchases.

In addition, brands need to understand the roles of different purchase channels, so as to leverage their influence in marketing, and to create efficient and pleasant shopping experiences across all channels. With regards to domestic purchasing channels, 97% of HNWIs have brought gifts in brick-and-mortar shops. Among them, "domestic brand stores, counters"(76%), "domestic department stores, shopping centers" (68%) and "through friends" (58%) are the most common purchasing channels. 74% of HNWIs have purchased gifts overseas. 69% of HNWIs have shopped for gifts online.